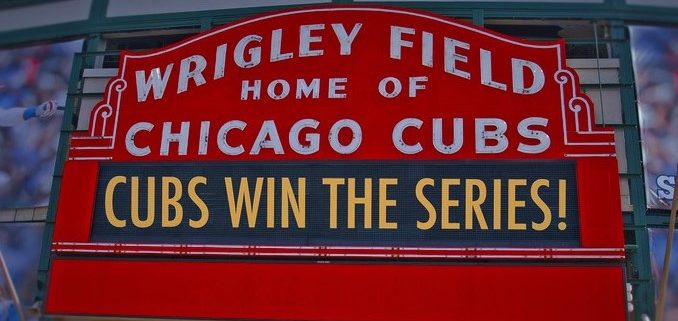 For the first time in 108 years, the Cubs are no longer losers. The Cubs were synonymous with losing. Every year, you could be sure that something would come along to stop their chances of winning; even when they would do well, they would end up blowing it. An injury, errors, or just plain bad luck would always ruin their chances to win the World Series title. This happened so often that Cubs fans believed that they could not win, that they were "cursed". No matter how well they played, deep down their fans believed they would find a way to lose. This thinking is not limited to sports. When life is not going our way, it can be easy to believe we might be "cursed" ourselves.
I often meet people that lack the confidence to believe in his or herself and go after what they want in life. It may be as simple as a new hobby or as serious as choosing a new career path.  Often the greatest struggle can be overcoming their own fears and self-doubts. Past failures, fear of the unknown, and lack of outside support can be negative factors. As a child, I often believed bad things would happen to me because I was not good enough or I deserved it. Therefore I felt I was not good enough to make friends, ask the cute girl out, or pursue my interests because I "knew it would just not work out." Though I was able to grow past those feelings, it is easy to succumb to these negative self-fulfilling prophecies. What can we do to get over these negative feelings so we can still strive and succeed at our goals?
Commit To It
 This may sound incredibly simple, but seriously committing yourself to your goal is an essential key to success. Without fully committing yourself, it can be hard to focus and become easily distracted. If you had an important speech to give or test to take, it is vital to seriously focus on that particular task. Giving it your attention for just a short time is not going to yield the best results. Tell your family or close friends about your goals and get some support. Sometimes you just have to fully commit to what you want.
Plan Ahead
Whether your goals are big or small, you need to set yourself up for success. Do you need to set time aside or get items for your new hobby? Do you need to take a new course or complete a certification to pursue a new career? If you are unsure of the proper steps to take, ask someone that has achieved what you want. From beginning to fulfillment, plan the steps that it will take to reach your goals.
You Will Not Be Good In The Beginning
Believe me, you won't, but that is completely fine. It is easy to try something for a day or a week, not do well, and then quit. Understand that you can and should learn from your mistakes. No one expects someone that is trying something new to be great in the beginning. This is no different from others who pursue their goals. Remember, when you do something incorrectly over and over, you will slowly begin to learn to do it better.
It's easy to doubt yourself and believe that you can't or are not good enough to achieve your goals. Even with these feelings, if you follow these steps you could be surprised at what you can achieve. Make your goals realistic. It may not always be easy to achieve the things you want, but it's worth trying. The Cubs had to wait 108 years and failed time after time, but they are no longer the "loveable losers", and you don't have to be either.

CHES, ACE Health Coach, AFPA Nutrition & Wellness Consultant
http://rickadamshealth.com/wp-content/uploads/2016/11/Cubs-Win-2.jpg
480
678
Rick Adams
http://rickadamshealth.com/wp-content/uploads/2020/12/Rick_Adams_header_v3.png
Rick Adams
2016-11-08 20:52:01
2017-03-10 00:13:58
You Have to Believe!: How to Avoid Being the Loveable Loser